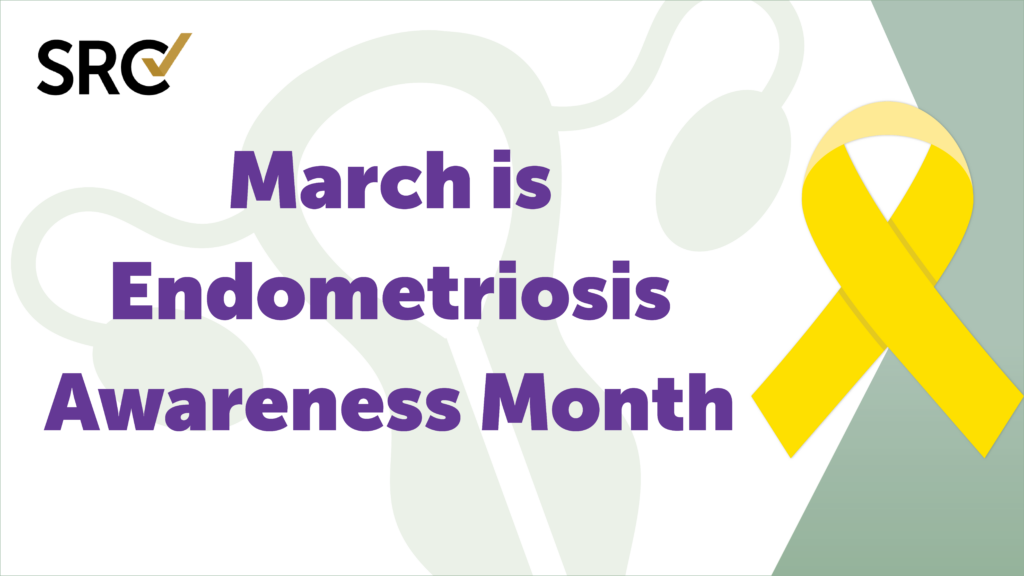 March is Endometriosis Awareness Month and an opportunity to bring awareness to this painful disease. Endometriosis is an inflammatory chronic pelvic pain disease affecting an estimated 200 million women and teens worldwide during their reproductive years. Endometriosis symptoms have been reported to begin at the first menses and due to scar tissue and adhesions, pain and symptoms don't always end at menopause.
Endometriosis can significantly impact the quality of life. A 2011 worldwide study on endometriosis and its impact by the Global Study of Women's Health found that endometriosis accounts for approximately 11 hours of loss in productivity per woman per week. It was estimated that individuals with endometriosis had a 38% greater loss of productivity at work than their counterparts. Outside of work, the pain proved debilitating and interfered with common everyday activities such as childcare, shopping and housework. The increase in pain severity was directly associated with a decrease in quality of life.
According to the Endometriosis Foundation of America, endometriosis occurs when the tissue lining normally found in the uterus begins to grow in areas it shouldn't outside of the uterus, such as the pelvic region, fallopian tubes, ovaries, spaces between the bladder and vagina. In some cases, endometriosis also affects the large and small bowel, lungs, diaphragm, appendix and rectum. The growth of the endometrium lining outside of the uterus causes inflammation, often debilitating pain and scarring. If left untreated it can lead to infertility.
The research is still not definitive on the exact cause of endometriosis. The Mayo Clinic identifies some of the potential causes as:
Retrograde menstruation: The process where menstrual blood carrying endometrial cells flows backward up the fallopian tube versus out of the body. Endometrial cells are deposited in the pelvic cavity where they begin to grow every menstrual cycle.
Transformation of peritoneal cells: Peritoneal cells line the inside of the abdomen, it is proposed that hormones and immune factors may transform these cells into endometrial cells, therefore, causing the disease.
Embryonic cell transformation: During puberty, estrogen hormones transform cells during their early development stage into endometrial cell implants.
Surgical scar implantation: Where endometrial cells attach to the surgical incision following surgeries such as C-sections and hysterectomies.
Endometrial cell transport: Where endometrial cells are transported through the blood vessels to other parts of the body.
Immune system disorder: An immune system not functioning properly may not recognize and destroy endometrial-like cells growing in areas outside the uterus.
Genetics: Having a family member who has endometriosis makes you more prone to developing the disease.
According to the World Health Organization (WHO), a common global barrier to receiving treatment includes a lack of awareness for the general public and many front-line healthcare providers, concerning the fact that significant and chronic pelvic pain is not a normal part of being a female. WHO reports that this lack of awareness contributes to the normalization and stigma of chronic pelvic pain associated with symptomology and menstruation, often leading to delayed treatment and loss of quality of life.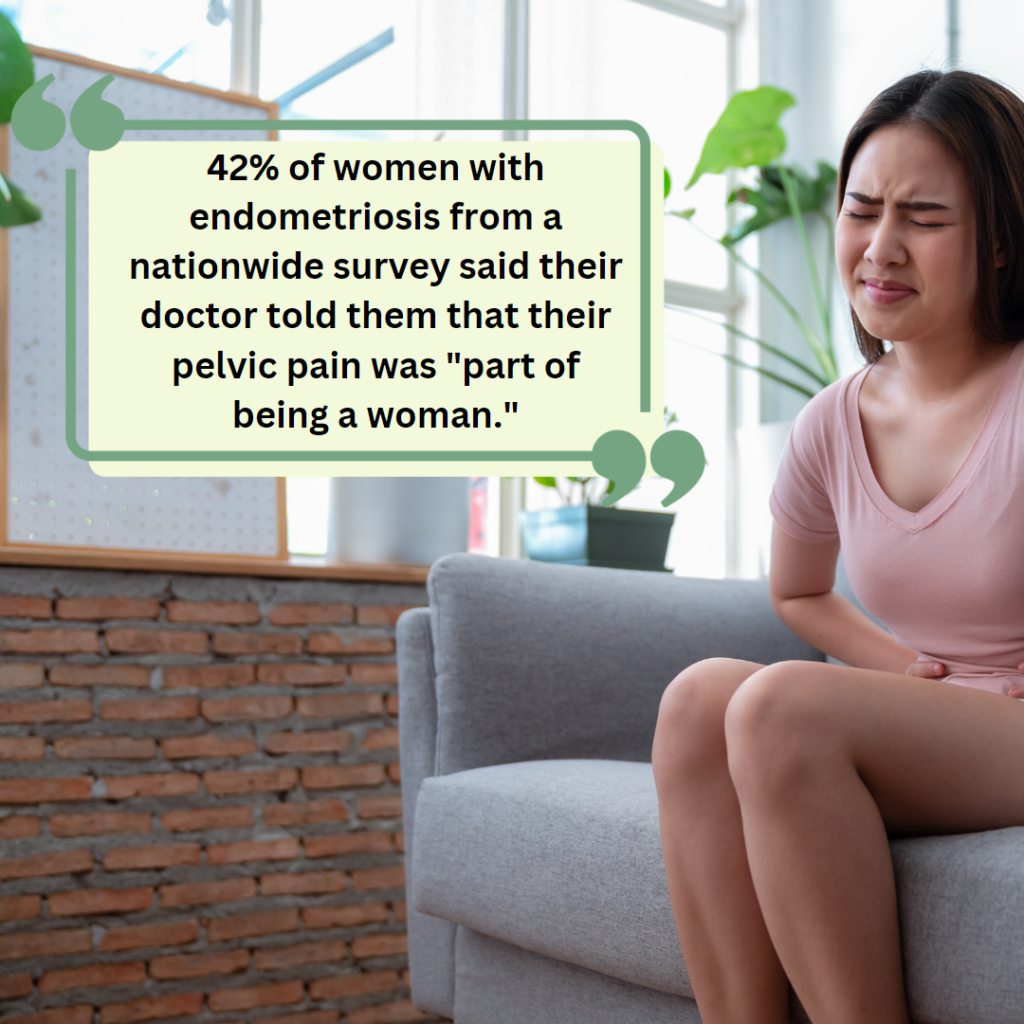 A nationwide survey conducted by the independent health network Healthy Women found that "42 percent of the women with endometriosis were told by their doctor that the pain they were experiencing was "part of being a woman." Endometriosis is difficult to diagnose, which the survey proved true as 72 percent of women with endometriosis had to visit two or more doctors before being diagnosed," (National Women's Health Network, 2017).
Endometriosis is more than just painful menstrual cramps. Endometriosis Research Center provides the following list of signs and symptoms of endometriosis and what is considered not normal and should be paid attention to.
The following are NOT normal and are common signs of endometriosis:
Chronic pelvic pain
Pelvic pain that gets worse after sex or a pelvic exam
Abdominopelvic pain apart from menses
Chronically heavy or long periods
Bowel or urinary disorders, often associated with periods
Painful sexual activity, particularly with penetration
Significant lower back pain with menses
Allergies, migraines or fatigue that tends to worsen around menses
Crippling menstrual pain that causes missed school, work, and activities
Catamenial pneumothorax (with lung endometriosis)

On average, endometriosis has a significant treatment delay from the onset of symptoms to diagnosis and treatment. According to a 2019 article in the Society for Women's Health Research, there is an average delay of 7 to 12 years from initial symptomology to obtaining an endometriosis diagnosis. Upon receiving the diagnosis, if surgery is needed, there can be an additional substantial wait time and cost associated with obtaining surgery. A 2020 BBC report found that the average waiting period for endometriosis surgery in Northern Ireland was 69 weeks.
A 2019 expert review published in the American Journal of Obstetrics and Gynecology outlined the findings of a working group comprised of researchers, clinicians and patients regarding the following barriers to endometriosis treatment, diagnosis and access to quality care:
Societal normalization of pain and stigma regarding women and menstruation
Lack of knowledge and disease awareness among patients, health care providers, public and the disease burden on individuals and society as a whole
Current diagnostic methods rely on invasive procedures
Limitations of current treatment options and access to timely specialized care
Lack of funding for endometriosis research
There's no definitive cure for endometriosis and more funding is needed for researchers to ascertain the causal factors for endometriosis. However, there are treatments available including:
Symptom management with the use of medication, birth control, hormone therapy, physical and alternative therapies
Diet and nutrition
Surgery
Surgical options include hysterectomy and less invasive options that might improve fertility chances such as surgical excision, which can be performed laparoscopically or robotically. WHO notes that for best outcomes multi-disciplinary treatment teams should be utilized in the treatment of endometriosis and may include pain specialists, pelvic physiotherapists, alternative medicine specialists, general practitioners, psychologists, gynecologists, and other specialists.
SRC is a nonprofit patient safety organization committed to connecting patients globally with elite endometriosis care providers. We want to help endometriosis patients receive the care they deserve, so we created accreditation programs in Multidisciplinary Endometriosis Care and Minimally Invasive Gynecology. These are awarded to facilities and surgeons that meet our proven standards and undergo rigorous inspection. To find an accredited Endometriosis or Minimally Invasive Gynecology provider near you, use our Find A Provider tool.
To receive more information about becoming an SRC-accredited provider fill out this form.
Join us on March 22, 2023, for a webinar where we will be discussing global diagnosis and treatment trends for endometriosis with SRC-accredited Master Surgeons. The webinar is open to everyone, Medical Professionals, people experiencing endometriosis or those that just want to learn more.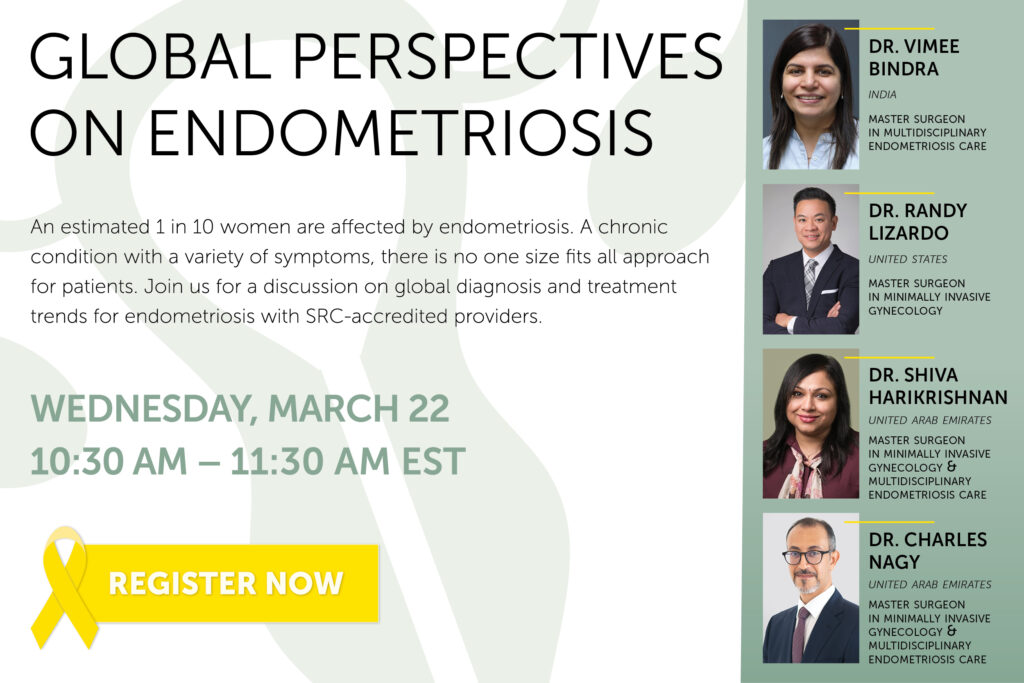 Sources:
As-Sanie, Sawsan, et al. "Assessing Research Gaps and Unmet Needs in Endometriosis." American Journal of Obstetrics and Gynecology, vol. 221, no. 2, Aug. 2019, pp. 86–94., https://doi.org/10.1016/j.ajog.2019.02.033.
"Do You Have Endo?" Endometriosis Research Center, 2023, https://www.endocenter.org/do-you-have-endo/.
Endometriosis.org. "Facts about Endometriosis." Endometriosis.org, https://endometriosis.org/resources/articles/facts-about-endometriosis/#:~:text=Endometriosis%20affects%20an%20estimated%201,world%20%5B3%2D4%5D.
"Endometriosis." World Health Organization, World Health Organization, 31 Mar. 2021, https://www.who.int/news-room/fact-sheets/detail/endometriosis.
Kennedy, Stephen, et al. "First Worldwide Study Finds Women's Productivity at Work Significantly Impacted by Endometriosis." Endometriosis.org, 7 July 2011, https://endometriosis.org/news/research/endometriosis-significantly-impacts-womens-productivity/.
Martin, Dan, and William Croyle. "Endometriosis: Defining It, Recognizing It, and Treating It." Endofound.org, Endometriosis Foundation of America, 28 Sept. 2022, https://www.endofound.org/endometriosis. Accessed 1 Mar. 2023.
Mayo Clinic Staff. "Endometriosis." Mayo Clinic, Mayo Foundation for Medical Education and Research, 24 July 2018, https://www.mayoclinic.org/diseases-conditions/endometriosis/symptoms-causes/syc-20354656.
McKeown, Lesley-Anne. "Endometriosis Inquiry Underlines NI Waiting Times." BBC News NI, 19 Oct. 2020, https://www.bbc.com/news/uk-northern-ireland-54593385. Accessed 1 Mar. 2023.
Ortman, Emily. "Identifying Barriers to Care for Women With Endometriosis." Swhr.org, Society of Women's Health Research, 25 Feb. 2019, https://swhr.org/identifying-barriers-to-care-for-women-with-endometriosis/#:~:text=The%20working%20group%20of%20researchers,Absence%20of%20noninvasive%20diagnostics. Accessed 1 Mar. 2023.
Seth, Shaniqua. "Ending the Endometriosis Silence: National Women's Health Network." National Women's Health Network |, National Women's Health Network, 24 Mar. 2017, https://nwhn.org/ending-endometriosis-silence/.