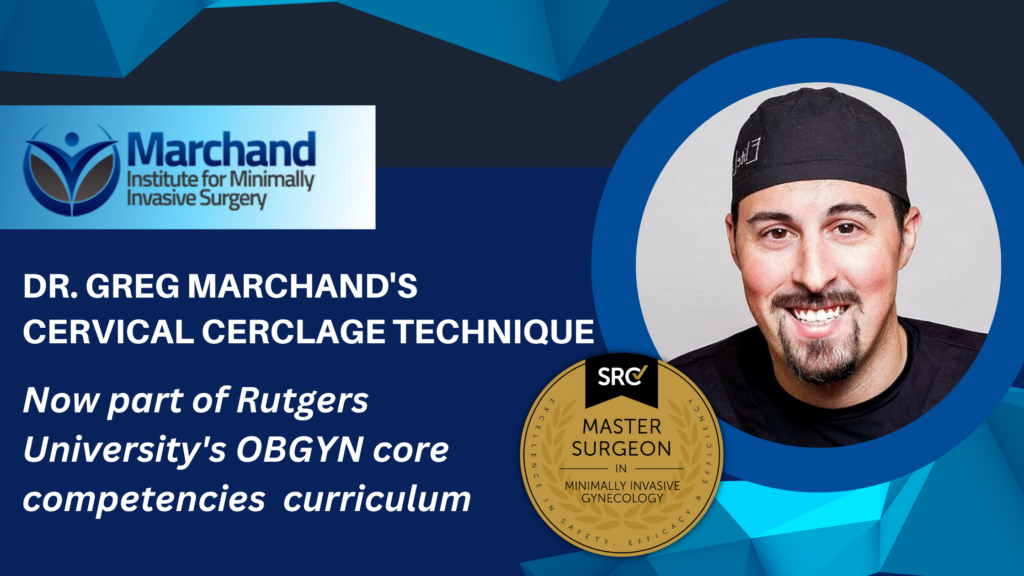 "I'm honored and humbled that Rutgers University has included my technique in their core competencies curriculum. I hope this brings more attention to this procedure so that it can help more women around the country." -Dr. Greg Marchand

Greg J. Marchand, MD, FACS, FICS, FACOG is advancing the field of obstetrics and gynecology with the laparoscopic cervical cerclage procedure. Dr. Marchand claims the procedure offers faster recovery times and reduced complications for mothers. The technique, first recognized by Dr. Marchand a decade ago, is being adopted as part of Rutgers University New Jersey Medical School's OBGYN core competencies curriculum. This is a significant achievement, as Rutgers University has a long history of excellence in medical education, training, and research innovation. Rutgers ranked #74 in best medical schools for research and #94-124 for primary care in USnews.com's 2023 school rankings.

Cervical cerclage surgery is a procedure performed for cervical insufficiency, when a pregnant woman's cervix is weakened to the point of not being able to remain closed long enough to hold the pregnancy. This surgery temporarily sews or closes the cervix to prevent premature birth and miscarriages. Dr. Marchand and the late Dr. Richard Demir published the laparoscopic technique in a 2010 training video. This technique is noted for being one of the first widely reproducible laparoscopic methods for performing an abdominally placed cervical cerclage utilizing a dolphin-tipped grasper instead of traditional needles to safely penetrate tissues. This method may result in faster recovery with reduced complications for the mother, and the cerclage can potentially stay in place following cesarean section, allowing for the prevention of multiple preterm births with one surgical procedure.

"Dr. Demir and I designed this technique with the intention to help as many women as possible. It's a wonderful way to honor Dr. Demir's memory, that this technique is still being taught at prestigious medical schools today."

-Dr. Greg Marchand
About Dr. Greg Marchand and the Marchand Institute for Minimally Invasive Surgery:
Dr. Greg Marchand is the director of the Marchand Institute for Minimally Invasive Surgery, as well as the fellowship program director for the Institute's SLS (Society of Laparoendoscopic Surgeons) Accredited fellowship in Minimally Invasive Gynecologic Surgery. The Marchand Institute is a research and educational not-for-profit corporation, and functional "Think-Tank" for the advancement of women's health and minimally invasive gynecologic surgery. The institute is located in Mesa, Arizona, and according to Dr. Marchand, adheres to the highest levels of research quality. "Our efforts are split between the publication of high-quality medical research in women's health and expert-level surgical education," states Dr. Marchand. Dr. Marchand is an associate professor of medicine at several local medical schools in Arizona and enjoys teaching students, colleagues and residents. Dr. Marchand holds dual certifications from the American Board of Obstetrics and Gynecology in both general OBGYN and Minimally Invasive Gynecologic Surgery. Additional achievements include being honored for performing a total laparoscopic hysterectomy through the smallest incision ever, and for having removed the largest uterus ever without needing to cut open the patient.
Dr. Marchand has been recognized by Surgical Review Corporation (SRC) for his dedication to providing exemplary patient care and safety. Since 2016, he has attained accreditation as a Master Surgeon in Minimally Invasive Gynecology. SRC, a global non-profit patient safety organization, grants accreditation to hospitals, surgeons, and health care professionals who successfully undergo its comprehensive inspection process and consistently uphold its established standards of excellence.
To find an SRC-accredited provider near you use our Find A Provider tool. To learn more about how to become SRC-accredited visit our accreditation page.
Already SRC-accredited and looking to be featured on our website and social media – contact our CARE program at Care@surgicalreview.org.