For Women's Health Week, Edward Tangchitnob, MD, an SRC accredited Master Surgeon and Surgeon of Excellence in Minimally Invasive Gynecology and Robotic Surgery answered a few questions about what drew him to medicine. Dr. Tangchitnob is a highly skilled gynecologic surgeon, with a unique background in electrical and biomedical engineering.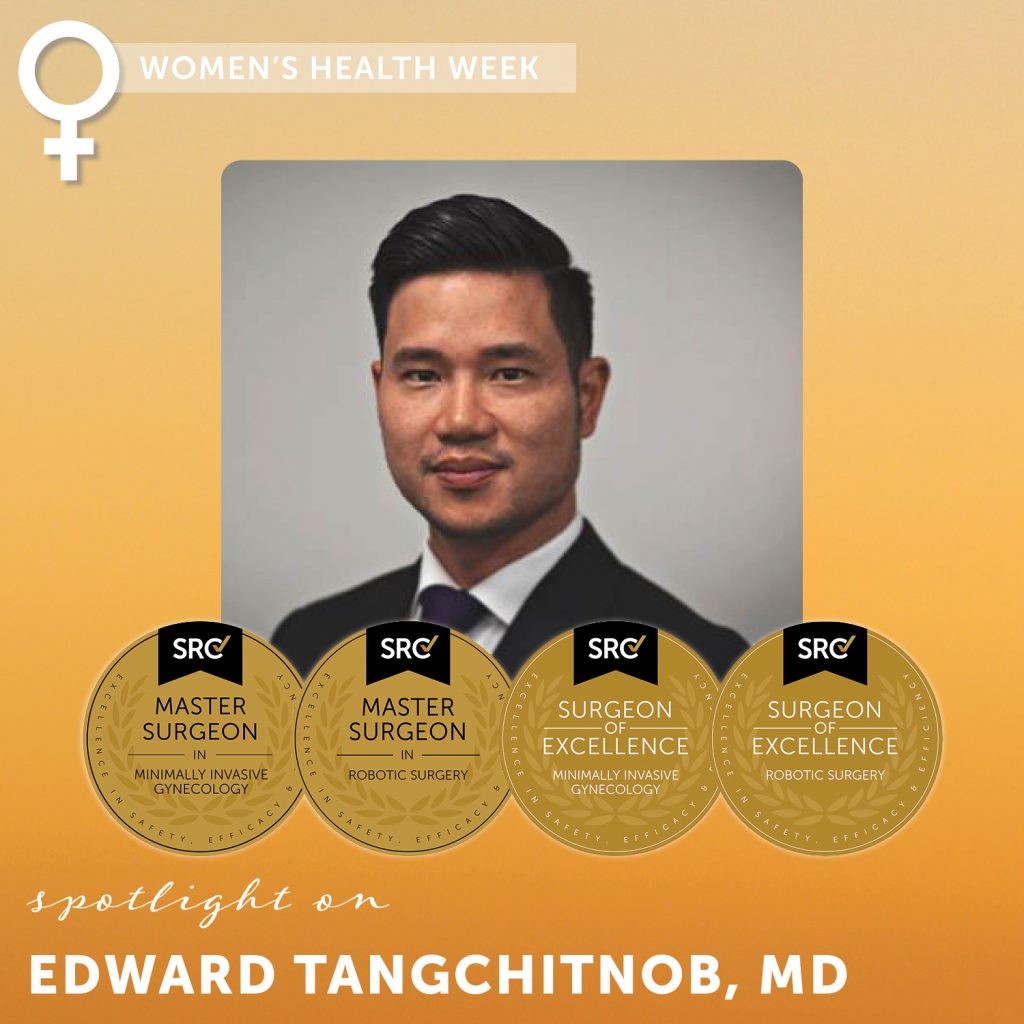 What inspired you to choose a career in medicine?
I was always interested in medicine, having grown up with my father who is an OB/GYN. At the same time, I was also fascinated by technology. I started off pursuing a career as an electrical engineer, but became more drawn to the idea of leveraging technology to help people heal and just live their best lives. I decided to figure out a way to combine my two passions. During the last year of medical school, I watched the first world televised robotic hysterectomy on YouTube and I was hooked. It helped me find a way to take my technical background in engineering and apply it to medicine ini the world of robotic gynecology and pelvic reconstructive surgery.
What is your specialty within women's health and what do you like most about it?
I specialize in minimally invasive gynecology and robotic surgery. Aside from the fact that it allows me to combine my two interests of technology and medicine, I like the fact that I'm making my patients' lives easier, better and healthier. Often times many women just "live" with these health conditions, such as abnormal uterine bleeding, pelvic pain, uterovaginal prolapse and urinary incontinence. They think it's normal, common after giving birth or a part of aging. My favorite part is being able to tell many of them they're not alone, their issues can be treated and that there is a better or healthier way for them.
Why did you want to achieve an SRC accreditation?
I wanted to achieve an SRC accreditation to help differentiate my practice and myself. The patient journey is often filled with confusion and not knowing where to look for credentialed surgeons. By achieving SRC accreditation at both the hospital and surgeon level, this designation provides an additional credential for patients to look for when they are looking for high volume surgeons who continuously undergo rigorous training of their minimally invasive surgical skillset.
Dr. Tangchitnob is in practice with his father at Tangchitnob MD and at SRC Center of Excellence Queen of the Valley Hospital in West Covina, California.
Watch Dr. Tangchitnob's recording of "Ask a Doctor Live" about endometriosis, robotic surgery and functional integrative medicine here.