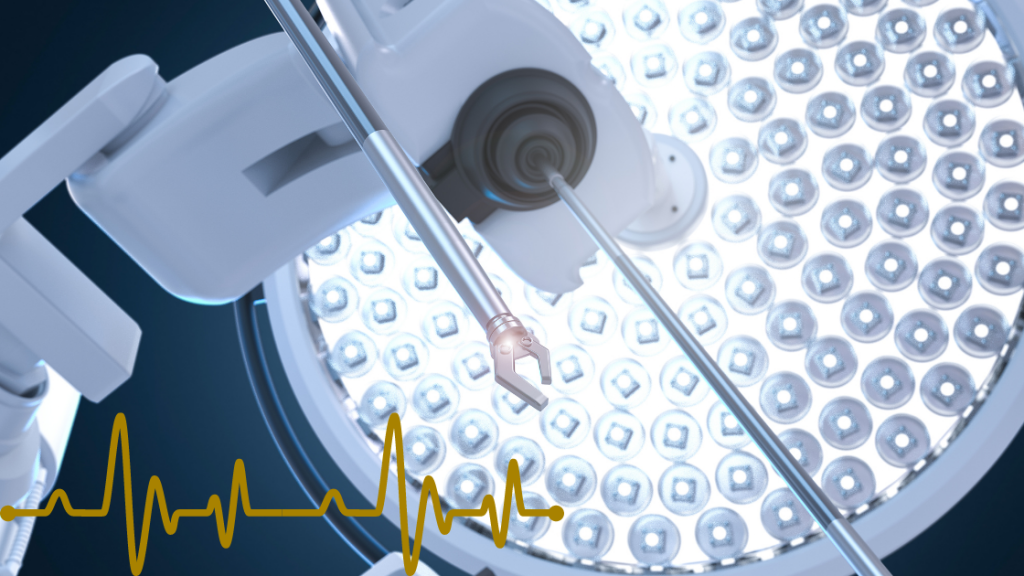 Robotic surgery has vastly increased over the last decade in medical popularity and practice. A 2020 study by the Jama Network on the Trends in the Adoption of Robotic Surgery for Common Surgical Procedures found that the use of robotic surgery increased from 1.8% in 2012 to 15.1% in 2018 (Sheetz, Claflin, Dimick, 2020). Furthermore, certain procedures yielded a higher adoption percentage, such as inguinal hernia repair, which increased from .7% in 2012 to 28.8% in 2018.
According to the Mayo Clinic, robotic surgery allows for complex surgical procedures to be performed as minimally invasive and with more precision. Increased precision due to robotic assistance often leads to less blood loss, reduced scarring, and improved patient recovery times and outcomes. With the help of robotic arms and magnified cameras, the surgeon can more adeptly see and operate on the site with smaller, more accurate incisions leading to a reduced risk of infection. This provides patients with a quicker return to normal life (Mayo Clinic, 2022).
To gain further insight, we solicited opinions from a few of our SRC-accredited providers regarding what advancements in the industry have made a significant impact on their patients and hospitals. Surgeon of Excellence Dr. Stacey Sensor, DO from Munson Healthcare Otsego Memorial Hospital in Gaylord Michigan, noted that "robotic technology has allowed me to offer minimally invasive procedures to patients that would have had to have open procedures in the past." Dr. Sensor continues, "robotic surgery allows me to perform complicated surgery laparoscopically. By doing this, patients have less bleeding and more precise surgery, leading to less scar tissue formation, less pain, and faster recovery." Dr. Sensor has noticed that when performing hysterectomies robotically, she sees a significant difference in patient blood loss, with 25-50 cc loss with robotics compared to 200 or more cc loss with traditional methods.
Dr. Harpreet Bawa, MD is an SRC-accredited Master Surgeon in Robotic Surgery practicing at Southern California Orthopedic Institute in Thousand Oaks, California. Dr. Bawa remarks that "the ability to use robotics as a tool that customizes each plan to each specific patient's anatomy is a game changer. This allows us to treat patients more safely and effectively. Furthermore, it has enabled us to treat patients who we would not have been able to treat without robotics."
A report by Grand View Research analyzing data on robot-assisted surgeries between 2016-2020 projects the annual increase of robot-assisted surgeries to continue to grow by 19.3% annually between 2022 and 2030 (Grand View Research, 2022). The study attributes this increase to a continued occupational decline of physicians and surgeons coupled with a trending increase in the adoption of automated instruments.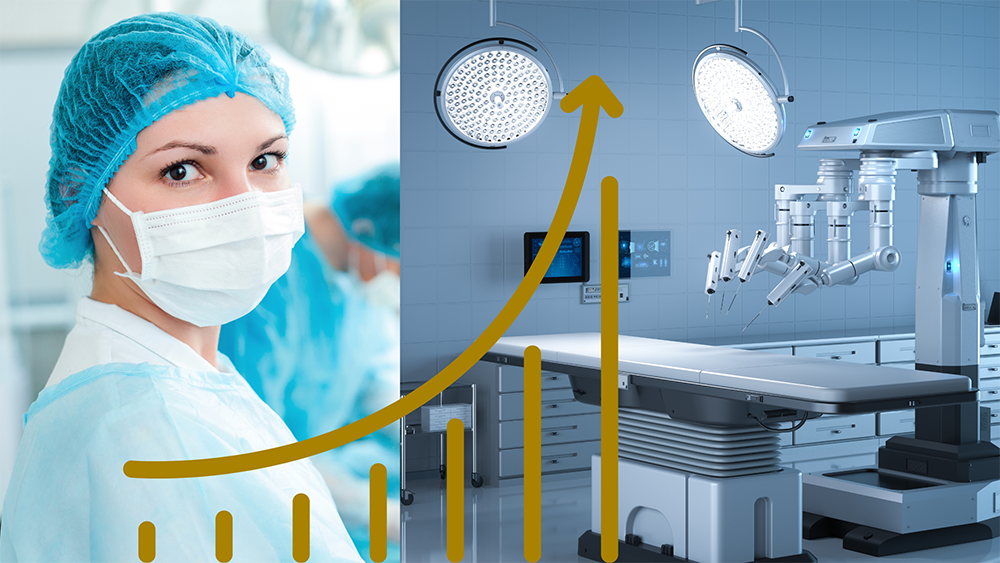 Dr. Bawa believes that increased use of robotics will be seen in every aspect of medicine. He reports that robotics for joint replacement is only done on a limited scale and in the future will become the standard. Surgeon of Excellence Dr. James Shurlow, DO from Munson Healthcare Otsego Memorial Hospital looks forward to robotics being a part of advancements regarding single port surgery.
Surgeon of Excellence Dr. John Moffat, MD from Munson Healthcare Otsego Memorial Hospital remarks, "without a doubt, robotic surgery will progress over time leading to new and innovative ways of dealing with traditional problems."
Risks are involved with any surgery, including the potential for infection, and human or mechanical error. Advanced Urology Institute and Dr. Shaw Zhou, MD, FACS discuss in their 2018 blog some of the disadvantages of robot-assisted surgery, such as the surgeon not having the tactile ability to 'feel' what they are doing. However, Dr. Zhou notes that the ability to perform surgery with smaller incisions, more visual clarity with magnification and 3D imaging, and direct benefits to the patient make robotics an important advancement in medicine. New technologies require new skills, and it is important that patients feel comfortable and confident in their surgeon's ability and expertise when utilizing robotics to perform surgery.
SRC is a nonprofit patient safety organization instilling trust among patients and referring physicians through an unbiased accreditation process. Unlike some accreditation programs, SRC is not part of a medical society that uses its members to evaluate colleagues. When some of our accredited surgeons were asked why they chose to pursue an SRC accreditation in robotic surgery, responses received from each surgeon had one thing in common: they wanted to make sure that their patients felt confident they were receiving expert care. Dr. Bawa "see[s] the value robotics brings to patients regarding surgical outcomes. I feel the Master Surgeon designation allows patients to see the effort that I have put into giving them the best possible surgical technique and outcome." Surgeon of Excellence Dr. Lindsay Harden, DO from Munson Healthcare Otsego Memorial Hospital, states "It gives patients assurance that we've gone through a review process, and they are in safe hands." Dr. Moffat expands on this by saying, "accreditation in new technology is critical to assure both safety and good outcomes for the patient."
As a nonprofit patient safety organization, SRC's proven high standards regarding patient safety, education and outcomes have been nationally and internationally recognized. Dr. Neil Hutcher, SRC's Chief Medical Officer notes, "patients are more informed about their care and are looking for quality. Accreditation is a meaningful indicator of quality, it distinguishes programs within the facility, amongst medical colleagues and the general public, which may be a deciding factor in a patient choosing a particular hospital or surgeon."
Patients can trust SRC's gold seal to identify health care providers who deliver excellence in patient safety and quality care. As such, accreditation in Robotic Surgery continues to be our fastest-growing program. Becoming an accredited Center of Excellence, Surgeon of Excellence or Master Surgeon in Robotic Surgery distinguishes those providers going above and beyond regarding the whole patient experience. Accreditation is achieved through a rigorous assessment process to ensure that SRC-accredited facilities and surgeons uphold the high standards set forth for patient care and safety.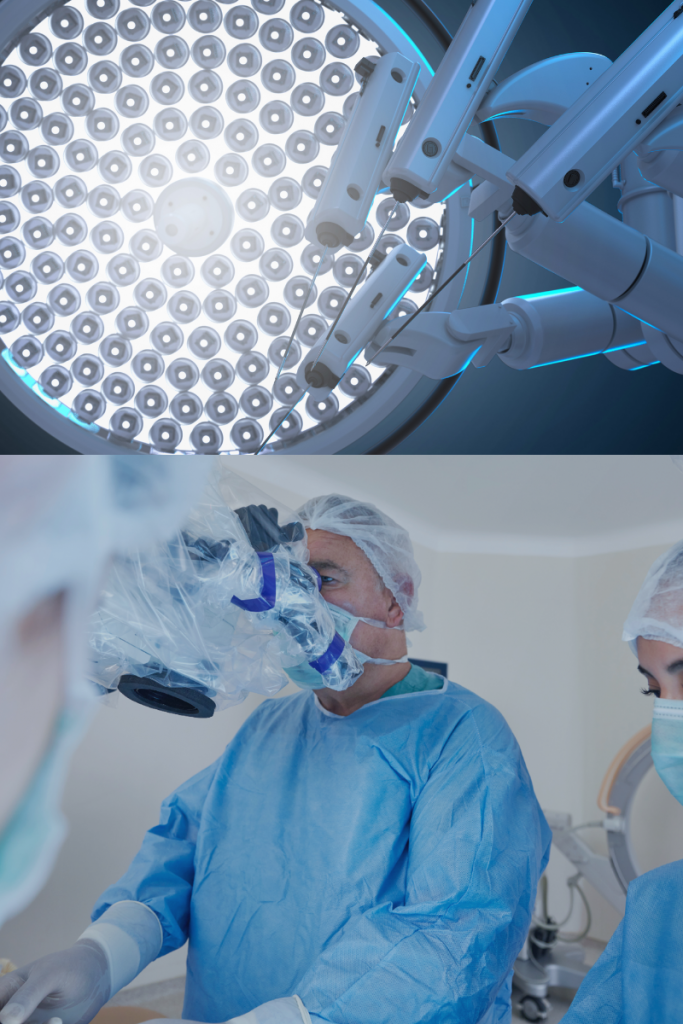 "It's not a certificate, it's a culture."
SRC's accreditation process is more than a seal of quality. As Dr. Hutcher puts it, "it's not a certificate, it's a culture." Our accreditation process takes a holistic approach to quality before, during and after accreditation. Just as patient-centered continuity of care is essential, so are continued support, education and services offered by SRC.
One of the ways SRC provides continual support is through our CARE Program, an included benefit of accreditation, which provides marketing services to help our designees promote professional accomplishments, achieve growth objectives, and effectively communicate the significance of accreditation. Becoming an SRC-accredited provider supplies physicians with a unique advantage as it lets their patients, referral sources and communities know that they can feel confident they are receiving the highest level of care and expertise.
SRC's Robotic Surgery accreditations are available for facilities and medical professionals.
– Robotic Surgery
– Robotic Joint Replacement
– Robotic Spine Surgery
– Specialized Anesthesia in Robotic Surgery
– Minimally Invasive Surgery
– Colorectal Surgery
– Hernia Surgery
Already performing robotic surgeries and want to elevate your practice as best-in-class? Receive detailed requirements for any of our robotic surgery accreditations here.
Sources:
Sheetz, K. H., Claflin, J., & Dimick, J. B. (2020). Trends in the adoption of robotic surgery for common surgical procedures. JAMA network open, 3(1), e1918911-e1918911.
Clinic, Mayo. "Robotic Surgery." Mayo Clinic, Mayo Foundation for Medical Education and Research, 6 May 2022, https://www.mayoclinic.org/tests-procedures/robotic-surgery/about/pac-20394974.
Advanced Urology Institute. "Advantages and Disadvantages of Robotic Technology in Urology." Advanced Urology Institute, 12 Feb. 2022, https://www.advancedurologyinstitute.com/advantages-disadvantages-robotic-technology-urology/.
Grand View Research. Global Surgical Robots Market Size Report, 2022-2030, 2022, https://www.grandviewresearch.com/industry-analysis/surgical-robot-market.