Randolph Lizardo, MD, FACS is an SRC accredited Master Surgeon in Minimally Invasive Gynecology and Surgeon of Excellence with Holy Cross Hospital. He practices at Capital Women's Care in Silver Spring, Maryland. Dr. Lizardo was inspired by his mother's career (pictured below with Dr. Lizardo following his first live robotic surgery) to pursue a career in women's health care. We're honored he took the time to answer a few questions during Women's Health Week: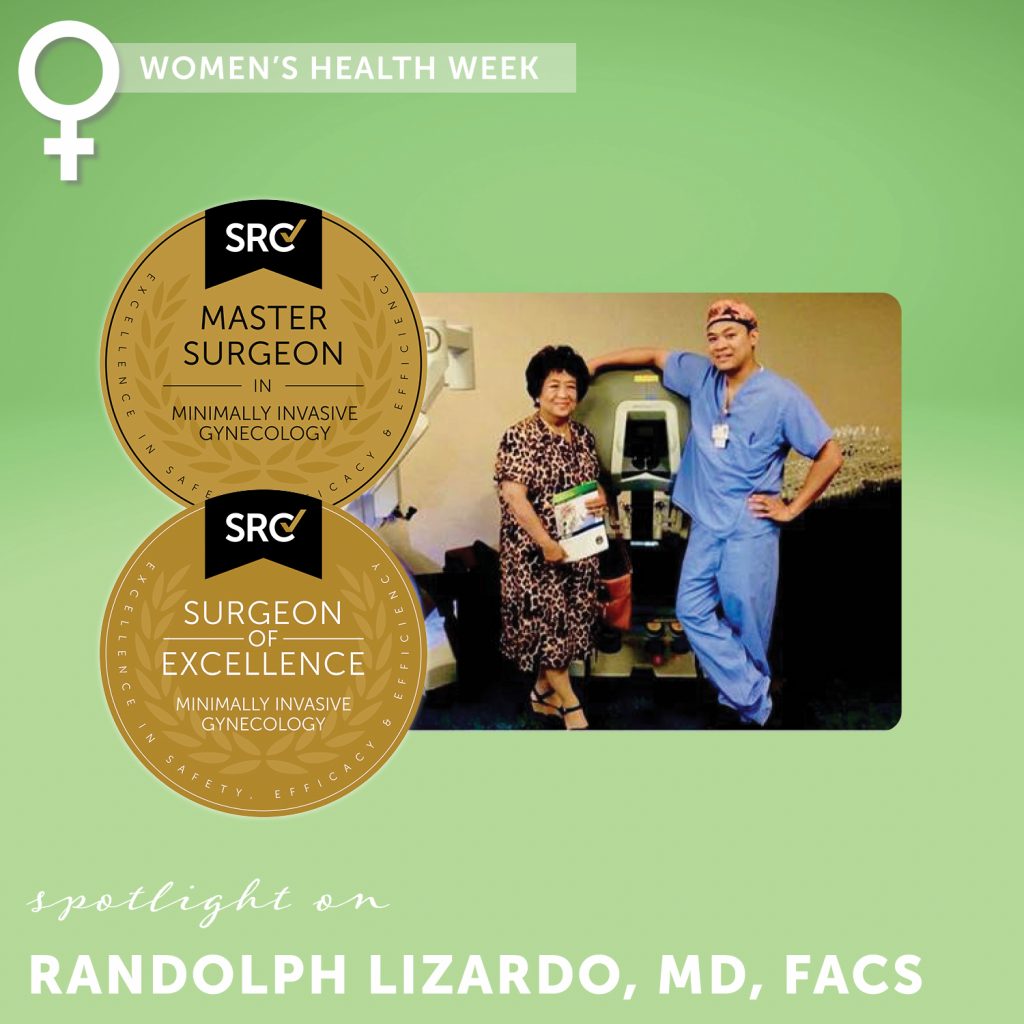 What inspired you to choose a career in medicine?
I grew up in a family of health care professionals, so I was always familiar with the field of medicine. My mom – who was the first Dr. Lizardo in my family – immigrated to the United States from the Philippines in the 70s and was part of a wave of nurses and physicians who left their homeland in search of a better life. I would oftentimes spend my weekends helping out in her office and volunteering in the day to day activities. I was able to see the impact she had on the lives of all those she cared for. I knew that part of my life long passion would be to help serve the needs of others. She was my inspiration to pursue medicine and continues to encourage me to become better.
What is your specialty within women's health and what do you like most about it?
I started out as a general OBGyn and developed an interest in minimally invasive techniques and treatments when laparoscopic surgery was still developing in gynecology. While I still love obstetrics and general women's health, I realized the greater impact I could have by focusing on refining my surgical skills and providing these services to fulfill a need in my local community. The field continues to evolve and newer technologies and techniques are always being developed, which inspires me to want to learn more and challenges me to improve. Being able to provide patients better care with more improved outcomes is what I have come to love about what I do.
What can patients expect when seeking treatment from you?
I provide a collaborative approach to patient care. I take into account their concerns and desires when I guide them in developing a care plan that I feel is both safe and effective. I try to be as up front and honest with my patients and oftentimes tell them if they were a family member I would treat them the same way.
Why did you want to achieve an SRC accreditation?
When I was invited to be included as part of the SRC accreditation at my hospital, I saw it as an opportunity to not only be a locally recognized minimally invasive surgeon, but as part of a larger network of internationally recognized health care professionals who provide quality care for our patients. I always want patients to feel comfortable in the health care decisions they make and an SRC accreditation helps serve that purpose.