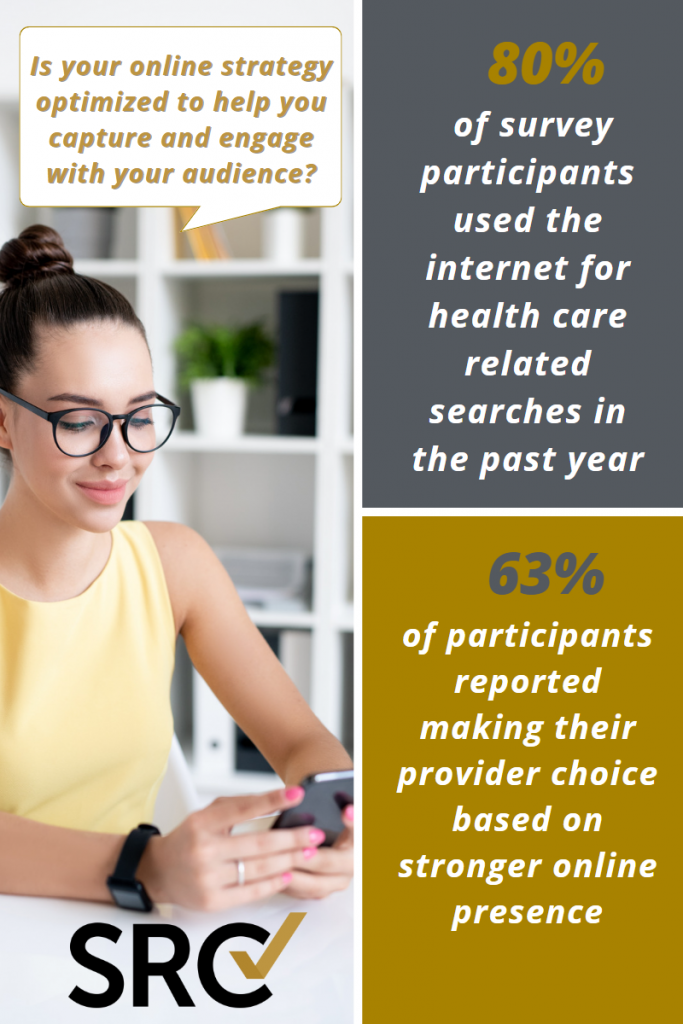 Increase your digital footprint and gain more traction from your online audience with effective SEO. SEO stands for Search Engine Optimization. Simply put, it's what places someone's content and/or website higher or lower in the search results when someone 'Googles it'.
With an ever-growing online society, more patients are turning to the internet and online search engines to research and source medical providers. It's not enough to just have a website or social media, they need to be living, breathing, and evolving engagement platforms. Treating your digital space as a clickable business card or brochure will not effectively help patients find you or feel confident in choosing you.
A survey commissioned by Doctors.com, found that of the 1,700 U.S. adults interviewed, 80% utilized the internet for health care related searches in the past year. Additionally, the study showed that 63% of participants would make their provider choice based on which provider had a stronger online presence.
As a nonprofit organization focused on accrediting providers who excel in patient care and safety, we know that you're best-in-class providers, and we want to help your current and prospective patients know it too. One way to increase your SEO is by providing engaging content through blogs that contain links and information from other established credible sources. SRC's CARE program can help you create engaging content that is not only important to online health care seekers but that also bolsters your SEO strategy, helping you rank higher in popular search engines. Our skilled copywriters can create blogs on a variety of topics such as 'Freedom from pain! Combat Endometriosis and start living your best life', created for SRC-accredited Surgeon of Excellence in Minimally Invasive Gynecology, Dr. Melissa Delgado. The blog post discusses what endometriosis is, possible causes and risk factors, common symptoms and challenges facing patients regarding diagnosis and treatment options. Focusing on important health care information that is likely to be searched for online, increases your opportunity to connect with and retain current and prospective patients. Contact CARE today to learn more about increasing your SEO strategy and creating engaging content through blogs, social media, and online presence.