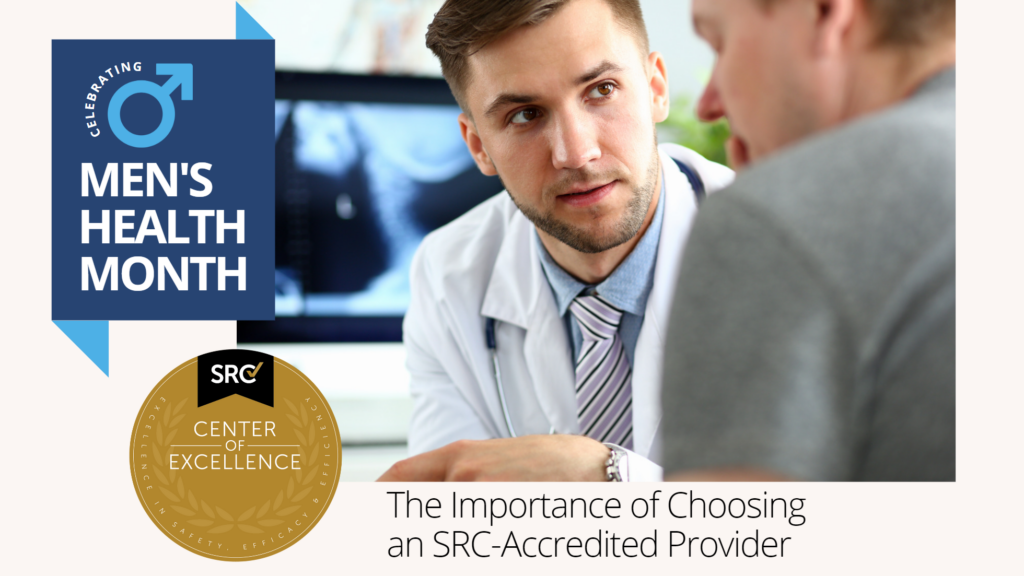 As we celebrate Men's Health Month this June, there's a growing emphasis on men prioritizing their health and well-being. Now, more than ever, there's a need for proactive actions, regular check-ups, and healthy lifestyle changes. We want to highlight the importance of choosing an SRC-accredited provider for any health care needs men may face throughout their lives.
Setting Standards in Patient Care
SRC is a nonprofit patient safety organization, dedicated to recognizing surgical and non-surgical health care providers globally who deliver an unparalleled level of care and commitment to improving patient safety and outcomes. Our mission to safeguard and enhance care standards is why choosing an SRC-accredited provider should be a crucial part of every man's health journey.
The Significance of SRC Accreditation
When you choose an SRC-accredited provider, you can rest assured knowing that your provider operates at the highest standards of professionalism and expertise. Accreditation indicates that the provider meets rigorous, internationally recognized benchmarks in areas such as patient safety, quality of care, and surgical skill.
In the complex landscape of men's health — encompassing everything from preventative care to the treatment of conditions like prostate care, skin cancer and urologic conditions — it's vital to have a health care provider you can trust. This is what SRC-accredited providers offer: a combination of skill, commitment, and a proven track record of success.
Early Intervention and Regular Check-ups
SRC encourages men to be proactive about their health. A Cleveland Clinic survey found that 72% of surveyed men would rather do household chores instead of seeing their physician, 82% of men noted wanting to stay healthy for friends and family but just 50% engaged in preventative care. Prevention is the best medicine, regular check-ups, early detection and intervention can prevent minor health issues from escalating into major health crises.
An SRC-accredited provider can help guide you through this journey. They are trained to identify potential risks, provide preventative care, and advise on lifestyle changes to improve overall health.
Empowerment Through Information
Health literacy is a significant part of taking control of your health. Understanding your risks, the importance of regular check-ups, and the role of lifestyle factors in your health is empowering. SRC-accredited providers are not just health care providers; they are also educators who provide patients with the knowledge and tools they need to maintain and improve their health.
This Men's Health Month, we urge all men to prioritize their health, seek regular check-ups, and trust in SRC-accredited providers for their health care needs. SRC is proud to offer over 30 accreditation programs focused on accessible quality health care for men through our Center of Excellence and Master Surgeon programs. Programs specifically designed for men include Prostate Treatment, Urology, Colorectal Surgery, Kidney Stone Management, Robotic Surgery and Minimally Invasive Surgery.
If it's been a while since your last check-up utilize our Find A Provider Tool to locate an expert provider near you.