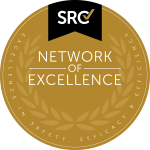 The Network of Excellence accreditation is awarded to multi-hospital systems that have achieved a Center of Excellence accreditation. Collectively, these hospitals have implemented system-wide pathways and procedures to ensure that excellent care is uniform and irrespective of where patients choose to have their treatment performed.
PROGRAM REQUIREMENTS
1. Institutional Commitment to Excellence
Applicant hospitals and participating medical professionals must all be designees in the same specialty. A network must have at least three participating hospitals within the same hospital system to qualify. Facilities must maintain consistency across requirements 1 and 4-10 in all participating facilities.
2. Surgical Experience
Network facilities and medical professionals must meet or exceed volume and outcomes criteria.
3. Physician Program Directors
There must be one Network Physician Program Director, and each participating facility must have an individual Physician Program Director. The Network Physician Program Director and individual Physician Program Director may be the same person at one facility. Meetings with all directors must be held regularly, at least quarterly.
4. Team and Support Staff
The Network must have one Network Program Coordinator (who must be a licensed medical professional) and each participating facility must have individual Program Coordinators. Meetings with all coordinators should be held regularly, at least quarterly.